For the Love of It
A food stall starts 'full circle' in east London
By Kathryn Riley
May, 2012
The first 'For the Love of it' stall celebrated Sri Lankan food.
At six o'clock on a warm Sunday morning in March, my husband David and I prepare to cook appams, a delicious fermented-rice crepe served on the roadsides of Sri Lanka, usually as a breakfast snack. We are making 60 of them for the first For the Love of It food stall, which will be held in our home. The day before, I soaked the long grain rice with shredded coconut and left the mixture to ferment in our pantry for 18 hours. Now, as David cooks the pancakes in a traditional pan, called an appam thachhi, each with a generous dash of sesame oil, I roll and stuff them with a sweet and fragrant filling of crushed cashews, coconut, cinnamon, ground ginger, cardamom and a hint of chilli. The smell of the spices is irresistible.
With the appams rolled and covered in the oven, I move on to preparing a typical Sri Lankan red lentil dahl, and a beetroot curry, taught to me by the wonderful cook Madu, in the outdoor kitchen of her Mirissa Beach farm and guesthouse, called Amarasinghe, in Sri Lanka. Both dishes I create from scratch with a selection of earthy spices from Sri Lanka: curry powder, dried chilli, cardamom, cloves, black pepper, coriander, mustard seeds and curry leaves.
To the curry I add kale and squash, using seasonal and organic local produce from my nearby 'Eden Organics' farm stall in London Fields. I want the dish to contain the ripest and tastiest ingredients in season. The colours of the food are rich and decadent: red rice, ochre-orange dahl, vibrant green kale and purple beetroot.
Before our first guest arrives, we sneak in a taste test. The red rice from the Camargue is delicate and nutty. The lentil dahl, cooked slowly with coconut milk, is sensationally soft and has a creamy texture. The mix of cardamom, mustard seeds and dried curry leaves gives it a sweet and stimulating flavour. The beetroot curry is rich and honeyed with a gingery undertone. The fermentation of the rice in the appams gives the crepes a wonderful sourness and with the sweet, spicy and nutty filling make the perfect end to the meal.
At home in east London
While I am cooking, my tall, blue-eyed, 30-something husband, David, starts rearranging our living room ready for our guests. We have set up a bench outside our terraced house, on the pavement of our quiet Victorian street in east London, watered our pots of rambling spring flowers and sticky-taped a poster announcing the day's stall and menu on our 'toucan blue' front door. From 12 noon onwards, friends, friends of friends, colleagues and neighbours start arriving.
The aroma of sweet-smelling Sri Lankan spices wafts through our open-plan kitchen and living room, and the guests line up at a round table to receive a cup of ginger and coriander tea, delicately ladled out of a big soup urn. My girlfriend Bridget – clad in leopard-print – is helping serve the food. On to simple white enamel dishes, she scoops a cup of the fluffed red rice with a sprinkle of coriander leaves and some red lentil dahl and beetroot curry, then places an appam on top. At the front of the room, we have covered our long table with a bright blue Mexican oilcloth, which our friend Tessa has decorated with vases of colourful gerberas, wax flowers, daisies and purple bells she bought from the Colombia Road Flower Market down the road.
Mithila, a yoga teacher originally from Sri Lanka, inhales appreciatively as she tastes the dahl and curry and tells me that it reminds her of her mother's cooking. Neal, a carpenter who works in the area, salutes me with a thumbs up and his friend Daniele, an IT professional, asks for seconds. Pete prides himself on being a connoisseur of Indian food; he has travelled all the way from south London and is delighted with the authentic flavour combinations of the spices and the cleanliness of the taste.
One of the tastiest accompaniments to many dishes is coconut sambal, made by hand. I adapted this recipe to make the stuffing for the appams.
This For the Love of It stall celebrates Sri Lankan food and on the round table is a donation basket for guests to make a contribution for the meal. There is also information on the Amba Tea Estate, a small, single-tea estate in the mountains of Sri Lanka that will receive the profits from today's stall. I was captivated by the Amba Tea Estate and their brand, Plucky Tea,when I learnt that they employ local women to make tea the traditional way – hand-plucked, rolled, dried and bagged, with no pesticides or chemicals. The profits from today will help fund the women in establishing their own line of tea, promoting financial independence and entrepreneurism for themselves and their families.
Restoring the love
I started exploring For the Love of It as a concept in November 2011, after I turned 30. It began as an aspiration to share with others the love and enjoyment I have for delicious home-grown food and traditional cooking. I have been a student of East Asian medicine (Chinese and more recently Ayurvedic) and nutrition for over five years and I wished it to be a grateful example of how these things have invigorated my health and vivacity.
Putting For the Love of It into action is significant. It celebrates all the experiences and knowledge I've gained from my youth, working life and travels. It connects the ideas and interests that have always existed in me, patiently waiting for me to take notice. (I believe my loving and non-interfering elders have a word for this course of discovery. They call it maturity.)
A few years ago I started feeling sick, experiencing a hollowness in the pit of my stomach. It manifested as fatigue and stress and I knew I wasn't right. The previous seven years had been very exciting. At 23, David (then my boyfriend) and I set off, young and green, on a big adventure, leaving suburban Melbourne to live in the small outback town of Alice Springs in central Australia. We lived there for three years. In my first job out of university, I was fortunate to work as the assistant to Stephanie Bell, the Indigenous director of a primary-health-care clinic and tireless lobbyist for improving the health outcomes for Aboriginal people.
Later on, David and I ran a web company and, with the luxury of time and virtual location it gave us, we travelled extensively, basing ourselves in San Miguel de Allende, Mexico for two years. In San Miguel, we lived in a small agricultural community, north of the centre. Fathers and sons went out to work on the farms, and the grandparents, mothers and children (while not at school) cooked and ran the affairs of the house. Some women worked too, in the shops of family members or as cooks and cleaners. During the mornings, evenings and weekends, families and neighbours would pass the time enjoying each other's company, looking after children, doing home DIY and other neighbourhood projects.
In those years in Alice Springs, I was privileged to witness the resilience, fortitude and courage it takes to fight for the health and welfare of a population that faces so much hardship. In Mexico, I had the honour of observing the love and caring of a devoted community where giving your talents, your time and your heart is the essence of life. My most admirable instructor in this was our neighbour and weekly cleaner, Domatila Ramirez, who is the most determined, patient and generous woman I've known. Domatila spent her weekends collecting spare clothing and bedding for her poorer neighbours, praying for her eldest son, who had crossed over to America to work and whom she hadn't seen in two years, and using the money from her work to ensure her extended family was comfortable.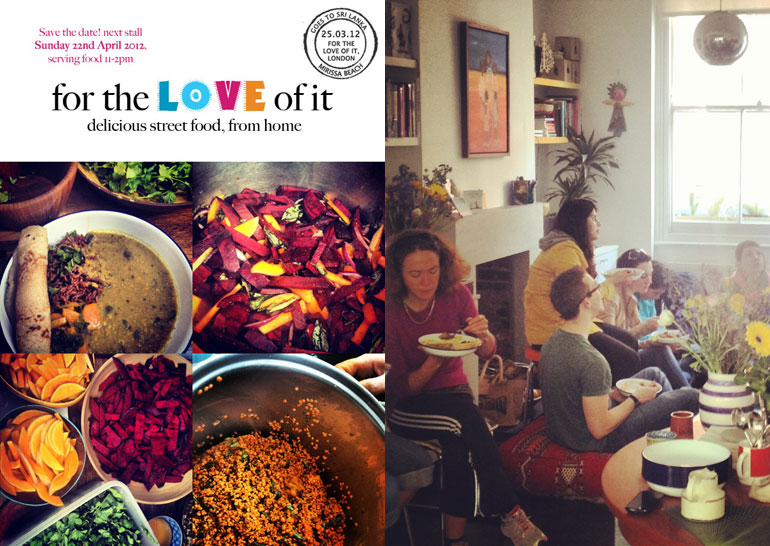 Food preparation and some of our guests.
By 2010, the world was in a financial crisis and the Earth was straining from over-consumption. Having lived as a traveller for most of my 20s, blessed by external discoveries and the pursuit of knowledge and experience, I felt particularly helpless in my inability to make any useful change. I reflected on my university studies in political science and on human nature, contemplating whether our species is truly inherently self-interested and greedy. I think we aren't. And so, with this conviction, I began to find my feet again.
Full circle
Through For the Love of It (as the name suggests), I hope to cultivate greater fulfilment, simply because I am doing something I love. I am never satisfied when I emphasise achieving results over being myself. When I started paying attention to my love for cooking and cultivating a talent for it, my friends asked me to start a cafe. I needed a bigger picture than to cook for my security so I started searching for something that resonated more strongly than my self-interest. Working on For the Love of It has allowed this.
Creating a 'full circle' is about seeing the multiple causes and effects that I action, and harnessing that principle for inner congruence. For the Love of It collects beautiful, nutritious, home- and farm-grown food from the earth in order to cook meals that truly nourish the body and soul. The money that people have donated for their meals, I invest back into the earth, into producing more vibrant, nutritious and healthy food. This is the primary 'full circle' that For the Love of It is based on. In another 'full circle', I recognise that I am cooking meals as a beneficiary of cultural ancestral knowledge, acquired on my travels as well as through my studies of traditional cuisines. In return, I donate the profits to a cause that preserves and promotes the continuation of this cultural cuisine and traditions. It looks like this:
Creating full circles. For the Love of it in action.
By applying the simple concept of the 'full circle', akin to the circle of life, the dynamic equilibrium of yin and yang, of relative giving and receiving, I am aiming for greater harmony and happiness.
Plucky Tea
The outcome of the two Sri Lankan food stalls has been inspiring. They were held in March and April and brought together over 100 people, gave rise to 160 shared hours and made £700 for the Amba Tea Estate. Simon Bell, founder of the Amba Tea Estate, informed me that they will put the funds towards developing a line of 'Tea Plucker's Home-Made Tea' for the 'lady pluckers' (as they are affectionately called). The money will pay for the specific equipment and materials needed by the tea ladies, plus the costs of training, quality control, and so on.
Beverly Wainwright, the manager of the plantation, is extremely grateful to all involved for the generous donation. She spoke to me about how Plucky Tea supports the existing culture and traditions of the community. 'Tea growing and making has been the mainstay of our valley for 100 years. The original tea factory closed around 35 years ago and many farmers and estates including Amba are struggling to survive due to low leaf prices. Our aim is to achieve sustainability and preserve livelihoods through the value addition of tea making, jam and dried-herb production. By opening our small tea-processing centre, we are reviving the tradition of tea making, developing skills in the valley and creating jobs. Our Vangedi Pekoe is made using the traditional method that local villagers use for making tea at home. [Vangedi Pekoe is named after the traditional pestle and mortar that the women use to bruise the tea.] The process was taught to us by one of our tea pluckers who remembered her grandmother making tea in this way.'
Clockwise from top left: Amba Tea Estate only use the tiny tips (one leaf and bud) for their Orange Pekoe tea; After plucking, withering the leaves naturally takes 24 hours; To make Vangedi Pekoe, leaves are pounded in a stone mortar, then fermented and pan-dried; A photo of the Amba 'team' including the lady pluckers.
The tea is organically grown on the Amba Tea Estate and they have planted thousands of trees to improve bio-diversity. I asked Beverly how the hand-made production process contributes to healthy, living foods in the local community. This is vital to complete the 'full circle' of For the Love of It. Beverly explained, 'As we grow, we plan to buy tea from local growers and to promote pesticide-free and where possible organic production within the valley. We are one of only a handful of artisanal tea makers producing hand-made teas in Sri Lanka and are experimenting with low-tech methods of tea making. We are already sharing our learning with other small growers both in Sri Lanka and elsewhere.'
Lastly, I asked Beverly how making Plucky Tea in the traditional way results in a superior culinary product. She replied, 'We make different teas in different ways, but all are made with great care by hand in small batches on a field-by-field basis. All have a range of flavours that are lost in heavily processed tea that is used to make tea bags. For our whole-leaf Orange Pekoe 1 teas (the finest-quality orange pekoe) we use only the finest, first-grade leaf and bud (about 10 per cent of our potential crop), to ensure the best-quality tea. The gentle processing means that the leaves retain natural oils that preserve anti-oxidant properties and result in a unique flavour. When brewed, the leaves unfurl back into the shape they were when plucked and can be infused twice, as long as the leaves are removed from the first brew after a few minutes. Our Vangedi Pekoe is not rolled but pounded in a stone mortar: the resultant flakes of tea make a richer brew that is great to drink with milk.'
It has been an honour to work with Amba Tea Estate and I hope to visit the Estate on my next trip to Sri Lanka.
Enabling change
I have been searching deeply to effect useful change and harmony in life and For the Love of It has been a fantastic adventure so far. I am tremendously excited to see where this process will lead, to meet more people each month and continue this conversation (or others), and simply to share a wonderful enjoyment for delicious, traditional foods. For the Love of It is still in its early stages and I hope reading this inspires you to come, and to perhaps create more 'full circles' in your life too.
In May and June we commence our summer menu, celebrating Malaysian food. I invite you to come down and check out our website for more details or email me at 'kathryn' at 'ftloi.com'.

[The End]

Special thank-you's and recommendations
For the ingredients:
* Eden Organic Farms from London Fields Farmers Market
* Chegworths at Borough Market
* Ash Greens on Broadway Market
* Unpackaged in Angel
* Wholesalers Infinity, Suma and Marigold
For the experience and connections with Sri Lanka:
* Amba Tea Estate and Plucky Tea
* Ulpotha Yoga Retreat in Ulpotha, Sri Lanka
* Amarasinghe restaurant in Mirissa Beach, Sri Lanka
For coming, eating and spreading the word:
* EVERYONE
* My inspiring yoga teachers Sam Sculthorpe, Lorraine McConnon and Leila Sadeghee
For their wonderful help:
* David, Bridget, Nina and Clea - cooks, chefs and hosts
* Lucy Ridout, Editor


Recipes
Sri Lankan Red Lentil and Coconut Dahl
200g red lentils
1 clove garlic or asafoetida
1 slice ginger
1/4 tsp mustard seeds
5 cardamon
1 tsp curry powder
1 tsp dry mix (garam masala)
1 tsp salt
20 curry leaves
1 1/2-2 cups water
1 can coconut milk
Wash the lentils.
In a pot, pour the lentils then the garlic, ginger and spices and mix thoroughly with your hands.
Add the water and heat gently on a low heat with the lid on until all the lentils are cooked.
When cooked, turn off the heat and add the coconut milk. Stir and let the dahl sit with the lid on for 5 minutes before serving.